Football Sierra Leone received one of the most prestigious awards from the country on Saturday in London.
This website was given the AWOL UK 2017 Special Award (ASA) for its 'Outstanding Contribution to Sierra Leone football and Sports Journalism.'
The founder and editor of our website, Alie Ahmed Bittar, who is a dynamic sports enthusiast, received the award at the Royal Regency Banqueting Suite, Manor Park, London on Saturday night, July 29, 2017, at the 6th Annual Achievement Awards ceremony.
AWOL recognises individuals and organisations that have made a significant contribution to society through their commitment and dedication to supporting and championing community cohesion and development.
"We are very proud and delighted to inform you that you and your medium have been chosen for an AWOL Special Award (ASA) – Contribution to Sports Journalism and your immense contribution to your community," AWOL stated in a letter to editor Bittar.
The letter added, "You have (medium) excelled in your field of work and have demonstrated your support, thoughtfulness and kindness to society. We are, therefore, pleased to recognise your invaluable work."
The award was determined by the All Works Of Life review panel across AWOL's global network.
Bittar, who was born in Sierra Leone and has lived in the United Kingdom since 2007, said he was honoured and feels humbled to be recognised as the brain behind the only Sierra Leone football fastest growing website.
"I'm so much thankful to my team and immensely privileged to be part of Sierra Leone's only and fastest football website that has more than 30,000 visitors monthly."
"A big thanks to the AWOL UK for this admiration and I must state here that despite the challenges in organising such an event of dignity and esteem, you were able to organise a program earnest of memory.
The Sierra Leone High Commissioner, His Excellency Mr Edward Mohamed Turay, was among other dignitaries in attendance.
In 2015 FSL editor Bittar was named amongst the 54 most influential people in Sierra Leone by the Swit Salone website.
Follow Us on Twitter @football_sierra, on Facebook/Instagram Football Sierra Leone.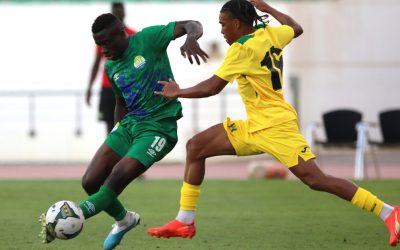 Sierra Leone registered its first victory in the African Cup of Nations Qualifying Group A campaign defeating Sao Tome 2-0 to move two points behind leaders Guinea Bissau. Both sides played to a 2-2 draw on Wednesday, but on matchday four, Sierra Leone looked more...
read more