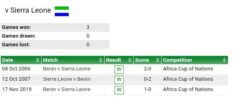 A new Afcon lifeline for Sierra Leone, but only a win against Benin at the Siaka Steven Stadium on Tuesday, at least with a goal, will be enough to break the continental jinx.
Sierra Leone destiny in their hands going into their final Group L encounter against Michel Dussuyer's Squirrels.
Tuesday's crunchy decider will the fourth meeting between the two nations in fifteen years.
In the last three meetings – they have defeated Sierra Leone 2-0 in 2006 at home, 2-0 in 2007 in Freetown, and a 1-0 win in November 2019.
In the process, the Squirrels scored five goals without conceding against Sierra Leone.
This is an opportunity not only to qualify but to beat the French-speaking West African nation for the first time since 2006.
A replica 1-0 win over Liberia in September 2019 during the World Cup preliminary when MLS legend Kei Kamara stunning finish ensure victory will be enough for the Leone Stars to book a ticket to the 33rd edition of the Afcon in Yaoundé Cameroon.
Without any exaggeration, Benin will be coming to take the game to Sierra Leone. They'll want to score to increase the psychological pressure on the home team.
It is expected to be fast and furious, more so they are a force to reckon with in African Football. They eliminated Morocco in the round of sixteen and lost to Senegal in the quarter-finals during the 2019 Africa Cup of Nations.
A new era in the making, as Coach John Keister looks to register his name in the history book of Sierra Leone football since Swedish coach Roger Palmgren who won the 1995 Amílcar Cabral Cup before guided Sierra Leone to South Africa 1996 Afcon.
Group L – Following a last-gasp winner, Nigeria qualified and Lesotho out of the race.
Benin (7 points) and Sierra Leone (4) both in the race. They go to war in Freetown.
A draw sees Benin through, while Sierra Leone needs a win to qualify.
Algeria, Burkina Faso, Cameroon, Comoros, Egypt, Equatorial Guinea, Gabon, Gambia, Ghana, Guinea, Ivory Coast, Mali, Morocco, Nigeria, Senegal, Tunisia and Zimbabwe have qualified, leaving seven places to be filled.
Connect with us @football_sierra, on Facebook/ Instagram Football Sierra Leone, the writer @bittar32 Contact bittar@footballsierraleone.net.