FIFA Development Manager for West and Central Africa El Hadji Wack Diop has echoed that football infrastructure is central to football development.
The Regional Manager made his statement during a visit to one of Sierra Leone's poor playing fields, the Approved School, on Thursday.
In May 2021, former FA boss, Isha Johansen, announced five proposed artificial projects at the training field in Kingtom, Approved School in Freetown. Lungi field, Port Loko mini Stadium and the Bo Coronation Field.
His visit is set to pave the way for a vital facelift of the above field mentioned as inspection of various playing areas across Sierra Leone continues.
Diop, who will be travelling to Bo on Friday with members of the FA for further inspections, talked about his meeting with Ex-co members and how infrastructure is paramount to football development.
"We have noticed the large majority of the projects are related to infrastructure," he told FA media.
On recognising the situation in Sierra Leone, he said, "Infrastructure is vital, is key to football development. Especially in well-populated areas, such as the area where we are right now." He was referring to Approved School.
"It was important for me to come and visit the area and see the passion people in the area had for football. In other to better support the project. Based on what we have seen and based on what has been told to us, this area, this field, that has very poor quality, unfortunately, is occupied from morning to evening."
He went further to say their role is to provide quality football pitches to help players develop better. He is expected to conclude his visit on Saturday.
It's worth mentioning that during Fifa and Caf's president's visit to Sierra Leone in May, Motsepe said: "CAF and FIFA are committed to supporting Sierra Leone with the requisite infrastructure to host the African Cup of Nations in the not-too-distant future."
Sierra Leone has only one internationally recognised stadium that is over four decades old. The Siaka Stevens stadium was built in 1979 with the help of the Chinese government.
Other venues across the country. Bo, Kenema and Makeni have been undergoing rehabilitation in recent years, some through Fifa assistance.
Connect with us on Twitter @football_sierra, on Facebook/ Instagram, Football Sierra Leone, and the writer Alie Bittar on Twitter @bittar32, Contact bittar@footballsierraleone.net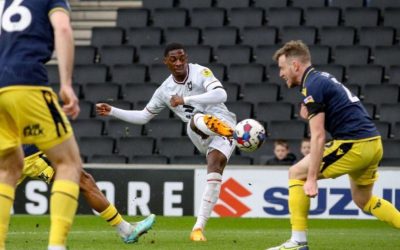 Sierra Leone International Sullay Kaikai scored the only goal as MK Dons moved out of the League One relegation places with a victory over Accrington, who dropped into the bottom four. Kaikai, who has seven caps for the Leone Stars, will link up with his national team...
read more