Jose Solomon Cortes's Bo Rangers have a perfect 35 points after seventeen first-round matches of the Sierra Leone Premier League thanks to Central Parade 1-0 over East End Lions on Sunday courtesy of Musa Bangura only goal at the Siaka Steven Stadium.
Bangura's goal came in the 45th-minute, assisted by Man of the Match midfielder Kassim Turay.
The Southern Province side, on their part, has been on top gear defeating the Republic of Sierra Leone Armed Forces outfit by 2-0 with goals from top league scorer Musa Noah Tombo and Lamin Kargbo in their final first-round game on Saturday at the Bo Stadium.
It was a tough defeat for East End Lions, who lost to third-place side Central Parade as they have failed to win in their last three league outings.
Another interesting result was the East End Tigers 1-0 win in Koidu Town in the Eastern Province of Sierra Leone to wrap their first lap.
Northern Province giant Wusum Stars stay fourth on 29 points, six behind leaders Rangers and four adrift of Lions in second.
FC Kallon is still in the race after 17 matches with 28 points seven adrift from the top, but they will have to improve their winning run in the second round. The Cavaliers suffered a home defeat to Diamond Stars in their last league outing.
Meanwhile, due to the Freetown-based Siaka Steven stadium expected to close down at the end of January 2022 until January 2023 for renovation, it is unclear whether there will be a second round. The over four-decade-old stadium has been the home venue for many top tier teams.
The League Top Scorers 
Musa Noah Tombo 9 Bo Rangers
Ibrahim Keita 7 East End Tigers
Alimamy Buya Kamara 7 Wusum Stars
Abu Bakaarr Kalokoh 6 Freetown City FC
Kassim Turay 6 Central Parade
Ibrahim Turay 6 Kamboi Eagles
The Current Season Top Assists 
Mohamed B Dabor RSLAF 7
Momoh Yillah EE Lions 5
Masalakie Bangura EE Lions 4
Ibrahim Turay Kamboi Eagles 4
Prince Rogers EE Tigers 3
Mahomed P Kamara Mighty Blackpool 3
Edward Thullah FCFC 3
Mamoud Fofanah FC Kallon 3
Connect with us @football_sierra, on Facebook/ Instagram Football Sierra Leone, the writer @bittar32 Contact bittar@footballsierraleone.net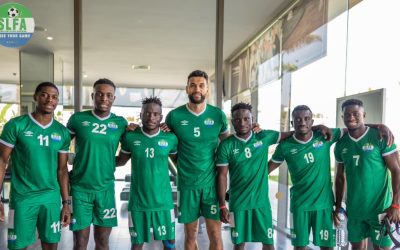 Sierra Leone captain Steven Caulker has urged focus from his national teammates ahead of crucial 2023 Africa Cup of Nations qualification matches this week. Caulker, 31, acknowledged that every player must focus and be ready for challenging encounters against their...
read more