Former England defender Steven Caulker set to represent Sierra Leone at the African Cup of Nations in Cameroon, Football Sierra Leone understands.
Caulker, 29, presently playing for Gaziantep FK on loan from Fenerbahce, will be a boost to coach John Keister's side.
The former Tottenham Hotspur and Liverpool centre-back, who was part of the Leone Stars training camp in Morocco, attestation were signed by the Sierra Leone government n Friday.
"Fifa was waiting on attestation. The government signed it today, so meaning we are good to go," a source who wanted to remain anonymous told FSL Sport.
In October, the former Queens Park Rangers defender was pleased after playing for the Leone Stars in a 2-1 defeat to Morocco homebased side.
"Playing for Sierra Leone became an obvious choice, an obvious decision. I played for England at the age of 20 when I made my debut playing for the first team, but since then, I have not played for England, I have been a part of some squads but not on the pitch," Caulker explained while speaking to BBC Fajah Barrie in Freetown.
He added, "The chance to come to Siera Leone to play football and to play football in the African Cup of Nation to come and get behind the nation in this exciting moment, for me, it became an easy decision to make.
"I am just happy to make the decision. I met with such love and warned love from all of the players. I feel at home – I visited Sierra Leone many times, I built a school in Kambia. My plan from the age of 19 was to give back to Africa, in particular Sierra Leone."
Sierra Leone are in Group E after reaching the tournament after 25-years following a 1-0 win over Benin on June 16 at Stade Général Lansana Conté de Nongo. The TotalEnergies 2021 Africa Cup of Nations is the 33rd edition of the Africa Cup of Nations organised by the Confederation of African Football (CAF).
Connect with us @football_sierra, on Facebook/ Instagram Football Sierra Leone, the writer @bittar32 Contact bittar@footballsierraleone.net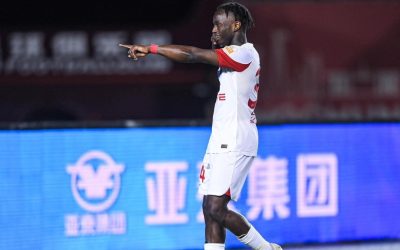 Sierra Leone's winger Issa Kallon was on target as Shanghái Port recorded their fifth straight victory in the Chinese Super League Changchun Sports Center in the 10th round of the Super League. Kallon, 27, scored his first of the season and Shanghái Port's opener in...
read more