Algeria through to FIFA Arab Cup semi-finals after defeating their North African rivals Morocco 5-3 on penalties in the quarter-final on Saturday at the Al Thumama Stadium.
In a North African derby after a goalless first half, Yacine Brahimi scored for the reigning African Champions in the 62nd minute before Mohammed Nahiri drew parity for Morocco two minutes later. 
Algeria took the lead in extra time for the second time in the match, but Badr Benoun equalised for Morocco in the second in the 111th minute to send the tie into penalties. 
During the penalties shootout, Algeria held their nerve Mohamed Tougai scored the crucial goal after Rais Mblohi saved Karim El Berkaoui's penalty, the only miss of the shootout. 
As a result, Algeria will face Qatar in the semi-finals at the Al Thumama Stadium on Wednesday.
Elsewhere in the other semi-final, Egypt will face Tunisia after the pharaohs scored twice in extra time in the quarter-final to defeat Jordan 3-1 at the Al Janoub Stadium.
Ahmed Refaat and Marwan Daoud scored in the 100th and 119th minute to secure the 3-1 victory.
Earlier, Yazan Alnaimat had opened the scoring in the 12th minute for Jordan, before Marwan Hamdy equalised moments before half-time.
Both semi-finals are due to take place on Wednesday (December 15).
African Football News – Follow us on Twitter @football_sierra On Facebook & Instagram: Football Sierra Leone.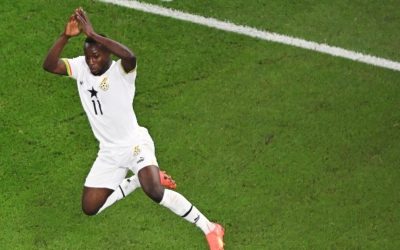 Ghana forward Osman Bukari took to Twitter to defend his decision to do the 'Siuu' celebration in their Group H World Cup opening 3-2 defeat on Thursday. The West African nation was trailing 3-1 at Stadium 974 in Doha as substitute Bukari pulled a goal back in the...
read more