Former Kamboi Eagles striker Ron Gandy-Williams has admitted he is happy to join one of Sierra Leone's most decorated clubs Mighty Blackpool.
The striker confirmed he signed as a free agent based on a mutual agreement with Kamboi Eagles to terminate his contract at the end of the first round of the campaign.
Williams, who joined the Eastern Province club in 2019, scored 18 goals over 35 games in two and half-seasons.
"I signed a three-year contract with one of the best clubs in Sierra Leone. I'm happy that I can make this step to Blackpool," Williams told FSL Sports.
"It's an honour for my family and I to have finally signed for the club. Wearing the orange jersey will certainly be a dream come true and career fulfilment."
The Tis Tas Boys are standing twelve on the log after seventeen first-round matches. The Sierra Leone Premier League is expected to continue on January 7th next year. 
The club history stretched back to 1923, founded under the name Socro United.
Sierra Leone Top Flight Championship
1968, 1974, 1978, 1979, 1982, 1984, 1986, 1988, 1991, 1995, 1996, 1998, 2000, 2001
Sierra Leone FA Cup Winners
1983, 1988, 1994, 2000
Connect With Us @football_sierra, on Facebook/ Instagram Football Sierra Leone, writer Lamin Turay in Freetown.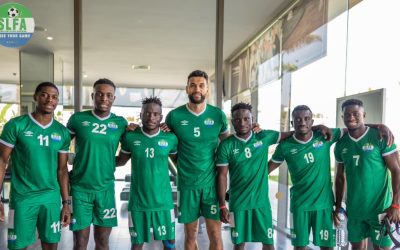 Sierra Leone captain Steven Caulker has urged focus from his national teammates ahead of crucial 2023 Africa Cup of Nations qualification matches this week. Caulker, 31, acknowledged that every player must focus and be ready for challenging encounters against their...
read more