There were fears the tournament would be delayed further amid the spread of the Omicron Virus.
The Confederation of African Football (CAF) in a joint statement with the Government of the Republic of Cameroon, Cameroonian Football Association (FECAFOOT), regarding the plan to counter the pandemic in relation to the TotalEnergies Africa Cup of Nations 2021 (AFCON 2021), have insisted that the African Cup of Nations will still be held in January 2022.
The organising bodies have acknowledged the seriousness of the Omicron virus and have put measures in place to prevent Cameroonians and everyone who will be at the tournament.
The African football body stressed that despite the additional challenge posed by the pandemic, the AFCON must take place as planned; the official opening ceremony is scheduled to take place on 9 January 2022 at the Complexe Sportif d'Olembé.
CAF says, in less than 25 days, the best 24 African football teams will participate in the AFCON 2021. However, special measures must be taken seriously in connection with this important and prestigious event.
The Cameroonian government, through its Minister of Health and the Minister of Sport, Physical Education, CAF and FECAFOOT, have decided that:
Supporters may only enter stadiums to attend AFCON 2021 matches if they are fully vaccinated and are able to show a negative PCR test result that is no older than 72 hours or a negative antigen test result, no older than 24 hours.
The competent health authorities will take all necessary action to facilitate vaccination and the performance of screening tests at all competition sites.
To ensure objectiveness and neutrality as well as, trust on all sides, CAF will use an independent, internationally recognised laboratory to test the national-team players and their delegations.
Connect with us @football_sierra, on Facebook/ Instagram Football Sierra Leone, the writer @bittar32 Contact bittar@footballsierraleone.net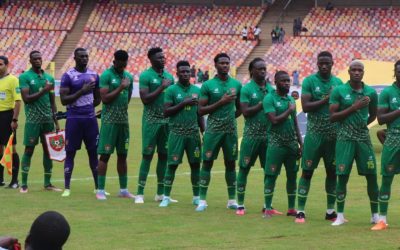 Guinea-Bissau coach Baciro Candé assured fans and delivered a 1-0 shocking win in Nigeria in their match day three African Cup of Nations Group A qualifier. Following the Super Eagles' uninspiring 1-0 loss to Guinea-Bissau in a 2023 Africa Cup of Nations qualifier at...
read more