Head coach John Keister believes his West African side Sierra Leone (Leone Stars), overachieved in Cameroon.
After the Leone Stars held Algeria and Ivory Coast in their opening two games in the African Cup of Nations at the Japoma Stadium but failed to get the result needed to progress to the last sixteen, the technician admitted his side overachieved in a short time in Cameroon.
Keister affirmed that despite the disappointment against Equatorial Guinea, his side 'overachieved'.
"People didn't appreciate" his hard work in leading his side to the 2021 Africa Cup of Nations.
In Cameroon, the Leone Stars were a missed penalty away from reaching the knock-out stages for the first time in their history.
"I think as a country, with the group that I have, we overachieved in a short space of time," Keister told BBC Africa. "I worked so hard, but I found myself in an environment where I don't think people appreciate that."
He guided Sierra Leone to their first Nations Cup appearance in 26 years, qualifying from a group involving Nigeria, Benin and Lesotho.
The Manchester-born is hoping to keep his job while trying to help the Leone Stars to Ivory Coast in 2023.
'We want to qualify again.'
"We have to love ok at home and develop the league system, in terms of the clubs, how we develop these players in different positions, roles and responsibilities," said Keister.
"That would help the national team because when you have a pool of players, then it becomes competitive."
Looking ahead to the Nations Cup next year, which is being held in Ivory Coast, Keister added: "Our focus has to be grassroots, our focus has to be developed. "If we don't get it right down there, we are not getting it into the national team. We want to qualify again. I think it's important that we develop and we prepare right."
African Football News – Follow us on Twitter @football_sierra – On Facebook & Instagram: Football Sierra Leone.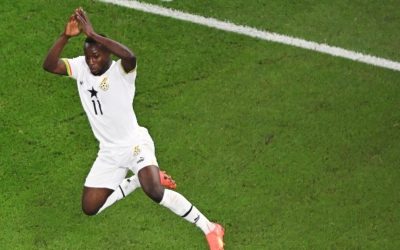 Ghana forward Osman Bukari took to Twitter to defend his decision to do the 'Siuu' celebration in their Group H World Cup opening 3-2 defeat on Thursday. The West African nation was trailing 3-1 at Stadium 974 in Doha as substitute Bukari pulled a goal back in the...
read more