Belgium club Beerschot V.A have paid tribute to former Sierra Leone International Lamin Junior Tumbu Conteh, who sadly passed away on Thursday age of 46.
Conteh played for the Belgian side between 1992 to 1995, where he featured 48 times, scoring 13 goals. The club remember the technically gifted Sierra Leone legend. A dribbling genius who can move past the opposition defenders with ease.
Beerschot V.A wrote, "Beerschot just learned about the death of Lamin Conteh. Sierra Leone's tech-savvy and arrow-quick forward played 48 times for Beerschot's first team from 1992 to 1995, scoring 13 goals. 
"Junior" played his way into the hearts of Kielse supporters when he dribbled everyone in a home game against Anderlecht. Beerschot expresses his deepest condolences to the family and many friends."
The Sierra Leone Football Association, Former Sierra Leone skipper Ibrahim Obreh Kargbo, Fifa council member Isha Johansen, renowned football administrator Rodney Michael and others pay their respects to the country's football icon.
"My thoughts are with your family. I know how you played a part in my life. We will mourn his passing.
"Rest In Peace, Father! I know you were an amazing person, and your presence will always be missed. I will always remember some of our wonderful memories that will never fade away from my heart. Till we meet again, Father," Kargbo passionately stated.
Well-known football administrator, Rodney Michael, described the news as a big defeat to the football family.
The Mighty Blackpool chairman noted that Lamin Conteh, alias Junior Tumbu, was arguably the most gifted footballing talent Sierra Leone has ever produced. His mesmerising skills of carving through opponents and providing extreme entertainment for all would forever linger in the memories of everyone who watched him play. 
He was a reserved person, never one to get involved in any publicity and loved minding his own business. In recent times, as General Manager of Freetown FC in Kenema, he helped the club rise to the top of Division 1 in the Eastern Region. He will forever be missed, but his memories on the football pitch will never die. And will be spoken of as a true legend forever. 
May His Soul REST IN PEACE!
East End Tigers owner Victor Lewis has this to say about the passing legend.
"Very saddened by this news. We saw you a few days ago before you left for Kenema knowingly – that was our last meeting. We spoke briefly. You introduced a guy who is the owner of Freetown FC. My hero, My legend. May you rest in Peace. May God Lord accept you as his son." He was the greatest ever player i have watched play for Sierra Leone."
Premier League club Kamboi Eagles
As a club, we are completely informed of the exploits this great man had in the football family as he helped polish a lot of football talents in Kenema particularly and for him to have died in our midst as Kenema people makes it more painful."
Fifa Council Member and former SLFA president Isha Johansen paid her tribute.
"I am truly proud and honoured to not only have met Junior but to have worked with him as he served as an honorary Ambassador for football during my tenure of office as SLFA president. His humility and unconditional love for the game and pride of his nation was infectious."
Our brother's name will forever be embedded in ot only Sierra Leone's football story records, but he will remember as one of the continent's greats."
MLS legend and former Sierra Leone International Kei Kamara thanked the passing legend for everything he has done for the country's football.
 "I want to thank him for all the joy and memories he left our people. He's a true legend of the game. We should celebrate his life. I pray his family finds warmth. I'm grateful I had an opportunity to be around him at the Afcon. I got to hear some stories about the past. Thank you, brother, Rest Easy, Legend."
Rest in power Legend💪🏽🇸🇱⚽️ you'll forever be missed🙌🏼 pic.twitter.com/VyUx1h81Ta

— Sierra Leone Football Association (@SLFA_sl) May 5, 2022
Connect with us @football_sierra, on Facebook/ Instagram, Football Sierra Leone, and the writer Alie Bittar – on Twitter @bittar32 – Contact, bittar@footballsierraleone.net.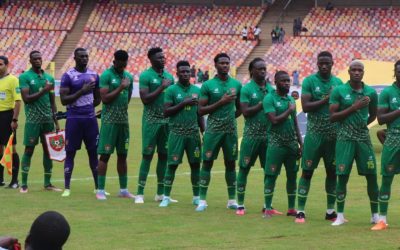 Guinea-Bissau coach Baciro Candé assured fans and delivered a 1-0 shocking win in Nigeria in their match day three African Cup of Nations Group A qualifier. Following the Super Eagles' uninspiring 1-0 loss to Guinea-Bissau in a 2023 Africa Cup of Nations qualifier at...
read more