Southern Province-based outfit Bo Rangers and FC Kallon are the two teams representing Sierra Leone in the 2022/23 CAF continental competitions, Football Sierra Leone understands.
The 2021/2022 fifth-placed side FC Kallon will join Bo Rangers, who won the Sierra Leone top flight for the first time in 68 years.
One of the most decorated clubs in Sierra Leone, the season second-placed side East End Lions, are yet to make a statement.
However, CAF announced a few days ago that preparations for the 2022/23 season of the CAF Interclubs Competitions have officially begun.
The Sierra Leone Football Association, SLFA, following a request from FC Kallon, have completed registration for Bo Rangers and FC Kallon, a source told this medium.
Preliminary home and away matches are to be played between 09 – 11 Sep and 16 – 18 Sep 2022. 
The PK Boys are the second team outside the capital Freetown to win the Sierra Leone Premier League after Diamond Stars won it in 2012 and 2013.
It will be the first time teams from Sierra Leone to compete in Africa's elite and second-tier competition since FC Johansen and RSLAF in 2017.
In 2017, FC Johansen was eliminated by FUS Rabat 4-1 on aggregate in the CAF Champions League as both sides played to a 1-1 draw in Freetown, but the Moroccan side won 3-0 at their Stade du FUS on 18 February 2017.
The same year in the CAF Confederation Cup, the Republic of Sierra Leone Armed Forces FC reached the first round after knocking out Nigerian side Wikki Tourists 2-1 on aggregate in the preliminary, but they suffered a heavy thrashing to Tunisia's Club Africain 9-0 first leg on 12th March 2017.
Fifteen years ago, FC Kallon eliminated Nigerian side Ocean Boys 1-0 on aggregate in the African Champions League preliminary after both sides played to a goalless draw in Nigeria.
The Cavaliers were eliminated by Ivorian Champions Asec Mimosa 3-1, who won both matches to progress.
In the 2012 CAF Confederation Cup, FC Kallon eliminated Cameroon's Union Sportive de Douala in the preliminary but faced stiff competition against Nigerian Warri Wolves, who won 2-0 on aggregate in the first round.
CAF INTERCLUB COMPETITION RANKINGS 
Meanwhile, on Friday, CAF announced a list of the 12 highest ranked national associations according to the latest Interclubs Competitions.
The clubs are Algeria, Angola, DR Congo, Egypt, Guinea, Libya, Morocco, Nigeria, South Africa, Sudan, Tanzania, and Tunisia. 
Connect with us @football_sierra, on Facebook/ Instagram, Football Sierra Leone, the writer Alie Bittar, Twitter @bittar32, and Contact bittar@footballsierraleone.net.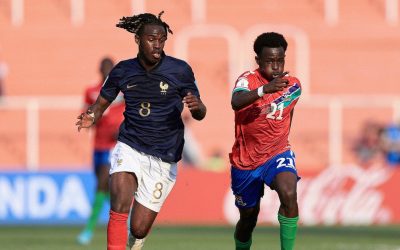 Adama Bojang missed the best chances in a goalless draw dominated by the table-topping Young Scorpions. Korea Republic 0-0 The Gambia The Gambia maintained their unbeaten run at this FIFA U-20 World Cup™ with a draw against Korea Republic as they secured the first...
read more