The newly appointed Team Manager of the Sierra Leone homebased national team, Alhaji Umar Bah, donated 100 training footballs to the Sierra Leone Football Association on Saturday at the secretariats.
The home-based team coordinator Victor Lewis was pleased with Bah's gesture as he confirmed 50 balls for youth football and the rest for senior men's and female teams.
Upon receiving the gesture, Sec-gen Chris Kamara appreciated the Business tycoon.
"On behalf of the SLFA, I want to thank you for this important gesture. As a football association, we have confidence in you. I promised that the items would be used for the intended purposes," Kamara told newsmen.
Chairman of Real Republicans Football Club and the CEO of Sierramin Bauxite Mining Company have been handed the task of overseeing the Leone Stars B side qualify African Nations Championship final tournament scheduled to be played in Algeria from 8–31 January 2023.
Leone Stars B side will engage Cape Verde in the qualifiers with first-round first-leg matches will be played between 22 and 24 July, with the return legs a week later.
Connect with us @football_sierra, on Facebook/ Instagram Football Sierra Leone, FSLNews – National football News.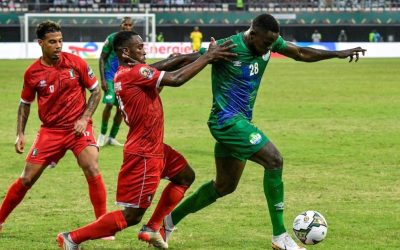 Libyan club Al Ittihad striker Musa Noah Kamara is to join Bo Rangers on a six-month loan deal, Football Sierra Leone understands. Bo Rangers are yet to make any official statement. However, a reliable source has confirmed this. Al Ittihad announced Kamara's capture...
read more