The 12th edition of the TotalEnergies Women's Africa Cup of Nations continues on Sunday as Teranga Lionesses defeated Uganda 2-0 in Group A to top the standings in Group A.
The Teranga Lionesses proved that they are ready to go as far as possible after scoring twice without conceding.
Diakhaté Ndeye opened the scoring for the Senegalese team with a penalty in the 39th minute after Tunisian referee Dorsaf Ganouati had no hesitation in pointing to the spot after a foul on Senegal's 16-year-old striker Hapsatou Diallo.
Senegal doubled their lead through Nguenar Ndiaye five minutes after the break, who finished clinically after being put through by the young rising star of Senegalese football, Hapsatou Diallo.
Burkina Faso will be Senegal's next opponent on Tuesday 5 July at 18h00 at the Moulay Abdellah Sports Complex.
In the day's other matches, Zambia played to a goalless draw against Cameroon Lionesses at the Mohammed V Stadium in Casablanca.
As a result, Cameroon stood second behind Tunisia, who defeated tournament debutants Togo 4-1 in their TotalEnergies Women's Africa Cup of Nations Morocco 2022 opener on Sunday.
The North African open their scoring inside the opening 15 seconds through rising star Meriem Houij, who was elected Woman of the Match.
And in the 22nd minute, Togo was awarded a penalty, with captain Odette Gnintegma taking on the responsibilities and tucking away her penalty neatly to become Togo's first scorer in the history of this competition.
Tunisia scored three more goals to wrap up their opener with a super win.
Today's fixtures Group C
Nigeria v South Africa 18:00 hrs
Burundi v Botswana 19 hrs
📹 𝐇𝐈𝐆𝐇𝐋𝐈𝐆𝐇𝐓𝐒: 🇹🇳 4-1 🇹🇬

Ruthless #TeamTunisia run riot to bag the 3 points against #TeamTogo!#TotalEnergiesWAFCON2022 | #EmpoweringOurGame | @Football2Gether pic.twitter.com/3bUpky43RK

— #TotalEnergiesWAFCON2022 (@CAFwomen) July 4, 2022
FSL African Football News – Connect with us @football_sierra, on Facebook/ Instagram, Women's Africa Cup of Nations News, Football Sierra Leone.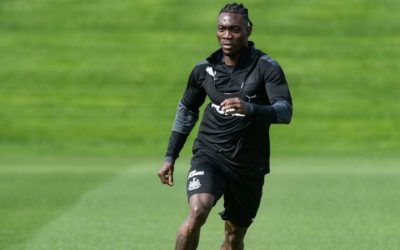 Christian Atsu's agent says the footballer's whereabouts are unknown, a day after it was reported he was pulled from the rubble of a building "with injuries" after the Turkey earthquakes, BBC sport reports.  More than 11,000 people in southern Turkey and northern...
read more