Ibrahim Sillah has decided to stay with the newly promoted Regionalliga BSV Kickers Emden for the 2022 to 2023 season.
"The club says Ibrahim Sillah will stay with BSV Kickers Emden. The 27-year-old midfielder has extended his contract with the newly-promoted Regionalliga," Kickers Emden said in a statement.
He joined the club from the state league club, Germania Leer, in the summer of 2020 and immediately became a regular player. His achievements did not go unnoticed by Sierra Leone coach John Keister.
"I'm really looking forward to continuing to play for Kickers. The regional league is a great experience for all of us, including the city and the fans. I hope we will provide viewers with exciting games that they will enjoy very much.
As a team will do our best in every game to be successful. Of course, that also applies to me personally," Sillah to the club's website.
Sillah was part of the Sierra Leone match-day one and two of the African Cup of Nations 2023 qualifiers against Nigeria and Guinea-Bissau.
Connect with us @football_sierra, on Facebook/ Instagram, Football Sierra Leone, Players Abroad News, the writer @bittar32, Contact bittar@footballsierraleone.net.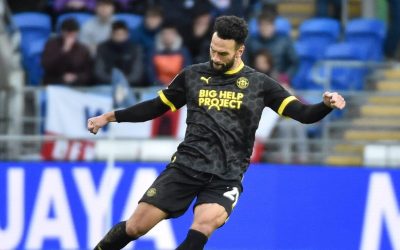 New Wigan Athletic boss Shaun Maloney has denied reports that former Bristol City defender Steven Caulker has departed the club. This comes after reports of the former England international defender already departed the club. "He trained this morning," said Maloney to...
read more