Sierra Leone suffered a back-back defeat in the U15 competition at the Antoinette Tubman Stadium in their final match on Saturday.
Host nation Liberia came from behind to win 2-1 in their first match of the 2022 West African Football Union (WAFU) Zone-A U15 Nations Cup championship following Mauritania's withdrawal.
The result means Sierra Leone has been eliminated from the tournament after a second defeat conceded five goals scored twice.
Sierra Leone had opened the scoring through starlet Osman Mansaray in the opening three-minute of play before Liberia responded after the visiting keeper Abu Bakar Kamara's mistake.
Ezekiel Varney levelled the scoreline for the host nations making the score one apiece as both teams went to the break unseparated.
After the restart, Liberia looking more desperate for a win – took the lead for the first time in the match with a delicious goal from Emmanuel Flomo less than two minutes in the latter period.
On Friday, the U15 side from Sierra Leone suffered a 3-1 defeat to reigning champions Senegal at the ATS stadium in Monrovia.
Following the second 2-1 defeat, Liberia and Senegal will battle for this year's U15 Nations Cup crown at the Antoinette Tubman Stadium in Monrovia at 9:00 Am on Sunday, 21 August 2022.
The winners from this encounter will be crowned champions, but a draw of any score will see the young Lions of Teranga retaining their crown.
Meanwhile, the young lads from Sierra Leone started the tournament on a positive footing thrashing Mauritania 6-0, but the result was nullified after the Mauritanian's withdrawal due to alleged age cheating.
Sierra Leone's Osman Mansaray was named Man of the Match in their 2-1 defeat to Liberia @a_wafu U15 match on Saturday at the ATS Stadium. #SaloneTwitter #AfricanFootball @a_wafu #FSLNews pic.twitter.com/0tQePgmSlO

— @football_sierra (FSL Media) 🇸🇱 website (@football_sierra) August 20, 2022
Connect with us @football_sierra, on Facebook/ Instagram Football Sierra Leone, FSLNews – Football News African.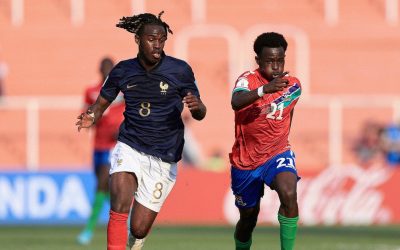 Adama Bojang missed the best chances in a goalless draw dominated by the table-topping Young Scorpions. Korea Republic 0-0 The Gambia The Gambia maintained their unbeaten run at this FIFA U-20 World Cup™ with a draw against Korea Republic as they secured the first...
read more