Cape Verde

 was announced as the host of the tournament on 16 August 2022.
Newly appointed Sierra Queen's head coach Ernest Hallowell has named his final squad WAFU Zone A women's Cup in Cape Verde.
Hallowell's final sqaud will compete in this year's WAFU Zone A Women's Cup set to run from January 20–30.
Nine West African Football Union members are expected to participate, including Cape Verde (host), Liberia, Senegal (holders), Sierra Leone, Guinea, Guinea Bissau, The Gambia, Mali, and Mauritania are anticipated to take part.
FC Kallon midfielder Sarah Bangura has been named skipper of Sierra Queens and will be deputised by Jeneba Koroma in the second edition of the competition.
Listed Sierra Queens WAFU Zone A Squad below
Keepers – Cecilia Bangura (Mena Queens), Isha Kamara (FC Kallon)
Hannah Juana (Mogbewma Queens)
Defenders – Alice Koroma (FC Kallon), Marie Kamara (Ram Kamara FC), Mabel Bongay (Mogbewma Queens), Aminata Bello (Mena Queens), Isha Sesay (SL Police FC), Mamusu Tamu (FC Kallon)
Midfielders – Kadiatu A.Kamara (Kahunla Queens), Jeneba Koroma (Mogbewmo Queens), Sarah Sesay (Kahunla Queens), Memunatu Kamara (Correctional Centre Female FC), Sarah Bangura (FC Kallon), Kadiatu M.Kamara (Mogbewmo Queens), Kadiatu Kanu (Ram Kamara FC), Maltida Kabba (Kahunla Queens), Adama Kargbo (FC Kallon)
Strikers – Kumba Brima (Kahunla Queens) & Wuyah Mahoi (Mogbewmo Queens)
Sierra Leone FA confirm Women's UFOA A participation

The CAF Women's WAFU Zone A set to kick off on January 20 to the 30.

Host Cape Verde 🇨🇻

Other WAFU nations are Gambia 🇬🇲 Guinea 🇬🇳 , Guinee Bissau 🇬🇼, Liberia 🇱🇷, Mali 🇲🇱, Mauritania 🇲🇷, Senegal 🇸🇳 and Sierra Leone. pic.twitter.com/uMqkjBg6ta

— Alie Bittar (@bittar32) January 12, 2023
Connect with us @football_sierra on Facebook/ Instagram, Football Sierra Leone, and National News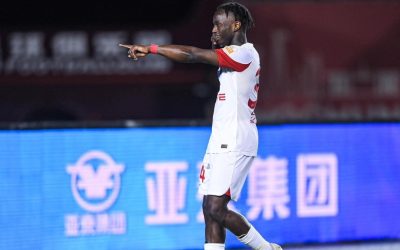 Sierra Leone's winger Issa Kallon was on target as Shanghái Port recorded their fifth straight victory in the Chinese Super League Changchun Sports Center in the 10th round of the Super League. Kallon, 27, scored his first of the season and Shanghái Port's opener in...
read more